by bigpresh on Jan.14, 2011, under Geeky
A few months ago I got a shiny new HTC Desire, and I've been really enjoying it, and found some excellent, useful apps.
Here's a little writeup on some of the ones I find really useful and would recommend.

Sends notifications (incoming messages/calls, low battery alerts, etc) to your computer, so you know what's happening without looking at your phone. Great to make sure you don't miss calls or messages if the phone is on silent or you've got your headphones turned up!
You need to install android-notifier on your computer to receive the alerts. There's Linux, Mac and Windows versions.
I'm using it on my Ubuntu-powered laptop, and it works a treat.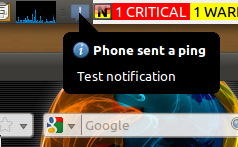 Really useful app which acts as a very usable task manager, and also shows all sorts of information about your device (graphs of CPU/memory usage, network usage, battery charge, battery temperature, and plenty of other info). The Pro version (well worth the pound or two to upgrade) can also run a monitor service to plot historical charts of ongoing usage, CPU/memory usage, battery state etc. Geeky fun with stats :) Probably the best feature of the Pro version, though, is the app install/archiving feature. If there's an app you want to keep available but don't use much, so want to remove to free up space, you can archive it to the SD card then uninstall it; if you want it back at a later date, it's installed again with a couple of clicks.
Useful SSH client, with key support, port forwarding etc. Important box fallen over when you're out and about and nobody else is available to care care of it? Emergency sysadmin on the run! Sure, typing on a phone keyboard isn't as good as a real keyboard, but its usable enough to do what you gotta do. I've had irssi in screen sessions etc working in it with no problems.
Yaaic – Yet Another Android IRC Client
Access to IRC from your phone. Works perfectly well, nice to be able to get on IRC on the move.
I used to use BeejiveIM when I used a company Blackberry, as it was the only reasonable multi-protocol IM client I found. They have an Android version, too, which is just as good. It's not free, but it's well worth the £3 or £4 I paid for it.
Nagroid – Nagios notifier
Checks against one or more Nagios servers, and reports any problems. Excellent, non-intrusive way to find out about problems which might need your attention.
QuickSSHd – start an SSH daemon on your phone
K-9 Mail – decent mail client
When I got my phone, I found both the standard Android mail client and the Gmail client insufficient. I need to be able to handle multiple accounts sensibly, and neither of them seemed capable of that at the time. K-9 Mail works beautifully for me.
I use MPD (Music Player Daemon) to play my music at home. MPDroid lets me control MPD from my phone, and also allows me to stream what MPD is playing, via its built-in HTTP streaming, straight to my phone.
I find this nicer to use than the stock Android browser – it renders nicely, with good tabbed browsing support, easy bookmark access, gestures etc.
If you're not too easily-offended, Sickipedia is a source of some great jokes. This app makes it really quick and easy to browse through the latest jokes, vote for them, save your favourites, and easily send jokes on by SMS/Facebook/Twitter/email etc.
Shows a graph displaying the visible access points, along with their signal strength on each wifi channel, so you can see overlapping signals, and immediately see the best channel to put your access point on for best reliability. Neat and simple!