by bigpresh on May.27, 2011, under Geeky
I use reCAPTCHA to help prevent spam comments. It used to be very good, and had the added bonus that it's helping to digitise books at at same time, rather than wasting effort.
However, it seems to be giving worse and worse CAPTCHAs lately, providing words that are almost impossible to read, and often words that are clearly not even English.
For instance: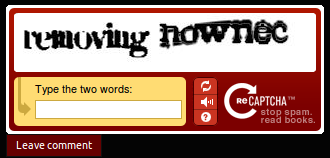 What's that?
I don't want to put off real visitors from leaving comments by making them decipher things that are too close to nonsense, so I think I'm going to have to replace reCAPTCHA with something more suitable. Suggestions welcome.