by bigpresh on Jul.09, 2007, under Gaming, reviews
I discovered Desktop Tower Defence yesterday. This game is simple but catchy, and keeps you trying again to beat your score.

The basic premise is to defend against wave after wave of 'creeps' by building towers which can attack them. There's a variety of different towers with different abilities, ranges, damage and fire speed, and a range of different 'creeps' with differing abilities too.
To save you a little time, the best way to do well and get high scores is by using towers to create a maze that the creeps have to follow whilst being pummeled by your tower's defenses – here's a screenshot of one of my mazes whilst playing the game, showing the creeps being forced to follow it: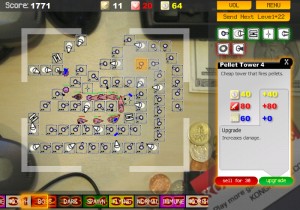 Creeps approach from different angles (left to right and top to bottom) and you lose a life every time one manages to make it across your 'desktop'.
When you run out of lives, or complete the game, you get to submit your name for the high score board, and you can see your final map on the Player Mazes page… here's mine from one of my attempts: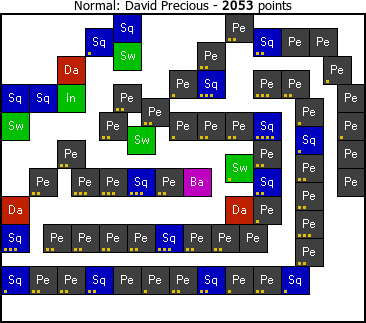 I found out about Desktop Tower Defence from Donncha O Caoimh's Addictive Online Games post (I'd heard the name before, but didn't check it out until reading that post).