Fancy a nice bargain on a Faberge egg?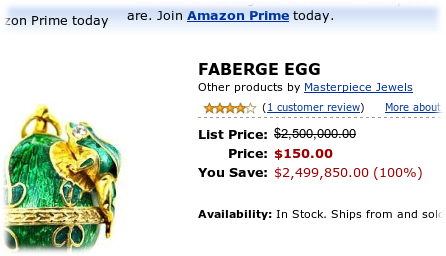 Not a bad little saving there, think I'll buy ten :)
Live link (at least until they pull it down)
Even better is the customer review for it:
Looks fantastic, but not so tasty, May 31, 2007
By Benjamin Hallert (Springfield, OR)
While the wrapper is artfully done, I was disappointed with the filling. I don't know if the one I got was a factory defect or not, but once I had removed the elaborate wrapper, I found it was empty, without even the smell of chocolate. After this, I'll stick with Cadbury eggs, but my experience may not be representative of the normal presentation. I've given the product 4 stars because of the wrapper, though, while difficult to tear off, it was certainly stunning.
(Found via a post on The Daily WTF)
If you liked that post, then try these...