by bigpresh on Dec.24, 2007, under reviews
Friday's pubbage @ lunch venue was the Princess Alice (40-42 Commercial Street) which we'd never been to before.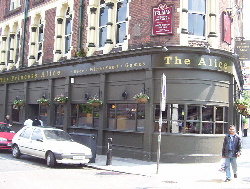 A very nice pub, good service and excellent food. I had a steak and chips, the steak was cooked to pefection and very tasty, and the chips were proper, home made chunks of real potato – a refreshing change!
The only thing which let it down was the lack of real ales – it has a good selection of lagers and Guiness, but very little in the way of real ales (I counted two pumps, one which was out of use, and the other was waiting for a newly-changed cask to settle). Not much of a problem for me as I'm happy with a lager, but an annoyance for Simon, our beer connoisseur.
If you liked that post, then try these...